Why Bangkok? Why the water?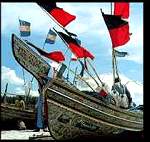 > This site features the project "City of water ", a work in progress of an international group of architects on behalf of the Faculty of Architecture - Chulalongkorn University of Bangkok.

> We started with a boat trip from Bangkok up north through the Chao Phraya River. A 10 days trip to Nakon Sawan, further north toward Sirikit Dam. We traveled on the water, it has been a river exploration.
An exploration made out of practical work, of desire.
> During this journey when the boats stopped, it was time to work.
Every one, every group, set his fragment of instant city.

We thank | Nokia | Thailand, the | Faculty of Architecture | of Chulalongkorn University and | art4d | magazine for giving us the opportunity to make this project possible. We are also grateful to the other sponsors for the economical resources and the enthusiastic support to our project.